California requires safer methods for dry cleaning
Thanks to a statewide ban, dry cleaners in the Bay Area are scrambling to green up their operations.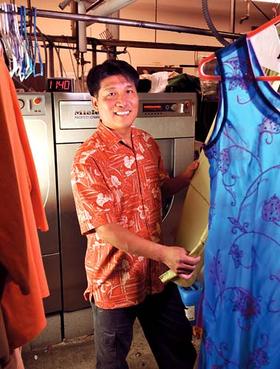 In the first plan of its kind, the California Environmental Protection Agency approved phasing out traditional dry cleaning machines in January 2007. Many machines will be gone in a year and a half, and a series of Bay Area programs are lining up to help local cleaners through their difficult transition.
"The goal is to encourage cleaners to adopt wet cleaning or carbon-dioxide-based methods — these are the only two alternatives the state considers non-toxic and
non-smog forming," said Peter Sinsheimer, director of the Pollution Prevention Center at Occidental College in Los Angeles. Sinsheimer ran several workshops in the Bay Area this year, and says more are planned for 2009.
An estimated 125 cleaners have switched to wet cleaning, and 10 have switched to methods that use carbon dioxide as the primary solvent. Ten more are in transition — some sponsored by programs like one run by the city of Oakland, which recently set aside $24,000 to help two cleaners switch to wet cleaning, and also sponsored a series of workshops and direct mailings designed to help dry cleaners transition.
Boost to business
While both wet cleaning and carbon dioxide methods have been criticized for slowing productivity, Sinsheimer recently conducted a study that shows business is booming for Bay Area cleaners that made the switch.
"Our business went up when we switched to wet cleaning because more people wanted to support a non-toxic cleaners," said Sung Han Lee, owner of Hesperian Cleaners in San Lorenzo. Two years ago, Lee went through a series of state-sponsored local workshops and then phased out his traditional dry cleaning aparatus, which relies on tetrachloroethylene or
perchloroethylene, otherwise known as PERC. Some Northern California trade associations oppose wet cleaning because it uses too much water. Yet Lee says he uses only 18 gallons of water for 25 pounds of clothing — just a fraction of what traditional dry cleaning machines use, and pales in comparison to the 60 to 100 gallons of water used when running a load in a home washing machine. Lee recently won a green business award from the Palo-Alto-based environmental group ACTERRA, in part because his wet cleaning machine uses so little water.
The Richmond-based Bob's Cleaners was also included in the study, and saw business and productivity improve, as did Nature's Best Cleaners in Sunnyvale.
Armani meets technology
Carbon dioxide methods use the greenhouse gas to get rid of dirt, although Sinsheimer said the process doesn't introduce any carbon dioxide into the atmosphere.
Wet cleaning works by tailoring the acidity of each wash to the type of fabric. A light jolting of the garment physically releases dirt, and biodegradable detergents are injected as sensors direct the spinning of the machine, and the even distribution of water.
While some criticize wet cleaning for stretching delicate sweaters, Sinsheimer says high-end cleaners in Malibu run Armani suits through machines. "They never have a problem because of the sensor technology," he said.
Chris People's, owner of the historic Vapors Cleaners in Santa Cruz, recently ran his leather jacket through his wet cleaning machine, and got a great result. Vapors recently installed solar panels, an energy efficient boiler system and a wet cleaning machine.
"You have to know what you are doing, but this is the case with traditional dry cleaning as well," said Lee. The dry cleaning chemical PERC interacts differently with certain fabrics, and can cause fading and even holes.
PERC-ing up
PERC is a volatile organic chemical that can dissipate into the air. Workers breathe it on-site, as do residents living near a cleaners. This October, the U.S. EPA began sampling several Santa Rosa homes and elementary schools after toxins were found in the soil near Peter Pan Cleaners. While the PERC is no longer used on-site, the chemical lingered in the soil and thus accumulated indoors.
The city of Modesto recently won a lawsuit over PERC contamination. After well water was found to be contaminated by local dry cleaners, the city litigated a groundbreaking suit against the chemical's manufacturers and distributors.
PERC is one of 189 chemicals designated as hazardous by the federal Clean Air Act. Under California's Proposition 65, PERC is a "probable human carcinogen." While the chemical is tightly regulated, the Environmental Protection Agency has found that 75 percent of dry cleaners are officially considered contaminated. According to Peoples, who works as an environmental engineer when not in his dry cleaning shop, it costs about $3 million to clean up a dry cleaning site. The individual cleaners must bear this cost.
This is one of the reasons the state of California moved forward with its controversial PERC ban. Dec 31, 2007, was the last day that traditional cleaners could be legally installed, and come July 2010, cleaners with 15-year-old machines will have to find new systems. Those with newer machines will only be able to operate until their equipment hits the 15-year mark. By 2023 no traditional PERC devices should be in use.
To help cleaners make the change, California Assembly Bill 998 provides the dry cleaning industry with funds to switch from PERC systems. The state established a fund in 2003 that subsidizes the purchase of wet cleaning and carbon dioxide systems, but has denied other alternatives the same support. (Earlier this year the California Air Resources Board decided to exclude Green Earth as an approved environmental technology. This silicone-based product is manufactured by Dow Corning, and one of its ingredients has been shown to promote the growth of tumors. Hydrocarbon methods are also not included in the subsidization program.)
As the phase-out deadlines near, a handful of other alternatives are trying to gain market status. Sinsheimer worries that many of these alternatives are not any better than PERC. One product called Drysolve, which contains N- propyl bromide, is highly flammable. "The problem is that a lot of companies are rushing forward with chemical alternatives to PERC, and the regulatory process can't keep up," said Sinsheimer.