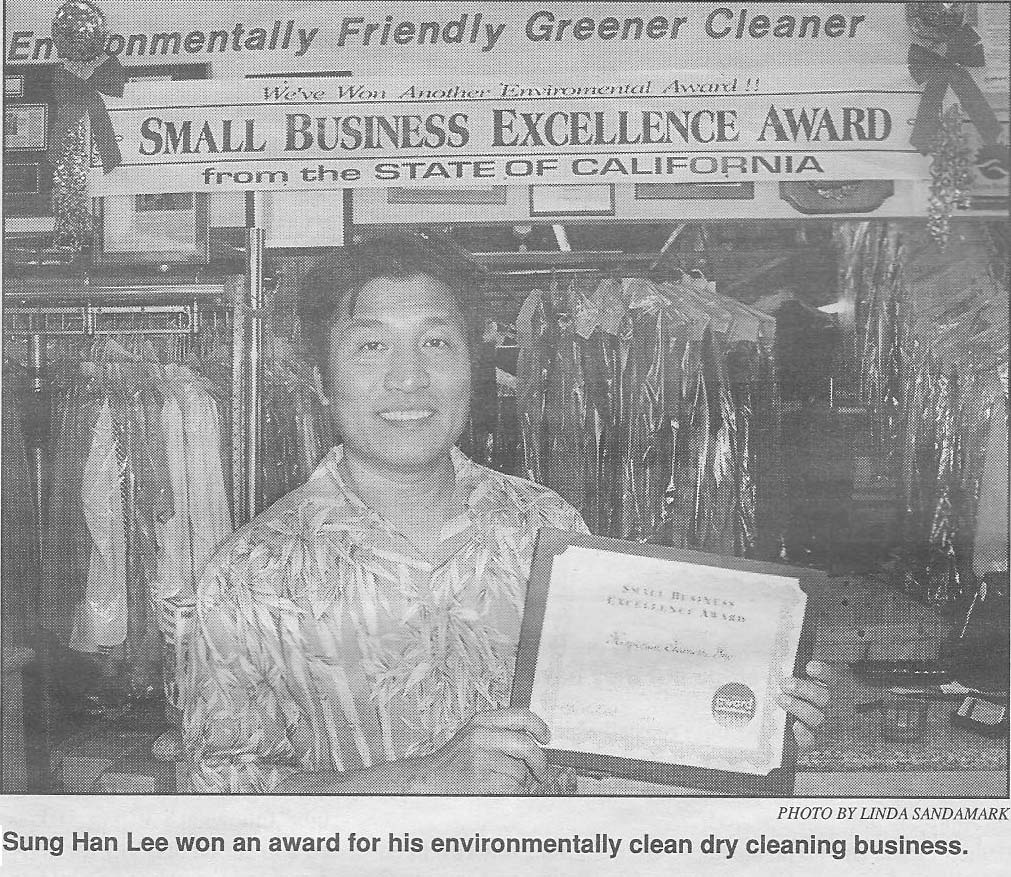 By Linda Sandamark

San Leandro Times

Hesperian Cleaners owner Sung Han Lee won a Small Business Excellence Award from the California Environmental Protection Agency (EPA) Air Resources Board in Sacramento last month for reducing greenhouse gas emissions at his three stores.

Lee's company was one of only 21 winners selected from over 100 applicants statewide. In addition to his San Lorenzo location, he also owns eco-friendly cleaners in Castro Valley and Danville. Lee hopes to serve as a model for other small businesses owners and garment cleaners.

"They don't just give these awards. We worked hard for it. We had to provide documentation which showed that we reduced our electric usage by 50 percent, our water usage by 30 percent, and best of all, our hazardous waste is down to zero." says Lee.

The also received the Green Business certification that verifies high environmental standards, and is awarded by the Bay Area Green Business Program.

In 2008 Lee also won a Business Environmental Award from Acterra. a Bay Area-based nonprofit environmental organization, for switching from chemical-based cleaning to completely non-toxic wet cleaning.

"This is the way it's going to go in the state of California." says Lee. "The state has passed a law to phase out dry cleaning solvents, beginning July 2010. I've been studying this since 2000, searching for an alternative, and I've done my homework. I knew if I was going to switch, I wanted it to be environmentally responsible, sustainable, and viable economically."

Lee recently returned from a trip to Germany, where he and a select group of seven Califor-nians in the garment-cleaning business were invited to visit the Miele company. Miele makes a high-end, state:of-the-art professional wet cleaning machine, which Lee purchased. When Lee saw first-hand Miele's philosophy and rigorous standards, he decided the expenditure was worth it. Lee says Miele has been in business 110 years, and has such an excellent reputation it hasn't been impacted by the economic downturn.
While in Germany. Lee also visited the Kreussler detergent company, which makes the biodegradable detergent he uses. Customers comment that clothes have no chemical odor and smell fresher using this new technology. Lee is pleased to be cleaning garments without health hazards or negative environmental impact. He gives demonstrations to other cleaners in hopes they follow suit.

"I am leading the industry, and I believe in it," explains Lee. "The State of California realized there are many small businesses striving to be in a leadership role. In a paradigm shift, it's a focus on business environmental impact, greenhouse gas reduction, and waste reduction."

Lee's three locations are: Hesperian Cleaners at 15848 Hesperian Blvd., San Lorenzo, 481-5825; Redwood Cleaners at 22321 Redwood Rd" Castro Valley, 886-6563; and Hesperian Cleaners. 438 Diablo Rd" Danville (925) 820-3421. All three sites clean clothing, drapes, blankets, bedspreads, area rugs, wedding gowns, etc., without solvents.