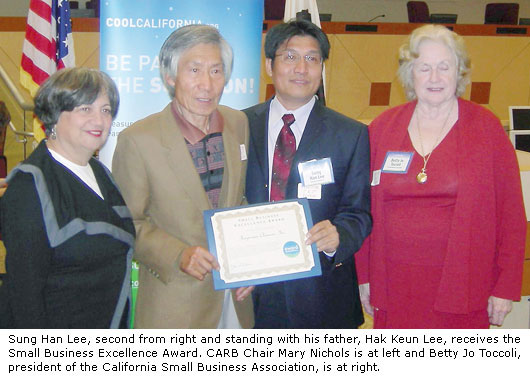 Hesperian receives second award for environmental work

Hesperian Cleaners was among several California businesses recognized by CoolCalifornia.org for excellence in taking steps to reduce its impact on the climate and communicating the information to employees and customers.

Since converting from perchloroethylene to wetcleaning, Hesperian has been a leader among northern California wetcleaners by hosting workshops and open houses and consulting with other cleaners and government agencies.

Hesperian Cleaners has stores in San Lorenzo, Castro Valley, and Danville, CA. Hesperian owner Sung Han Lee said that since switching from perc to a Miele/Veit/Kreussler system he has reduced electricity consumption by 50 percent, water consumption by more than 30 percent and hazardous waste generation by 100 percent, reducing his carbon footprint by tons.

He also formed a user group of wetcleaners in the Bay Area, the Professional Green Cleaner Alliance. "This award is not just for me, it is for all the wetcleaners in California," Lee said.

CoolCalifornia.org was formed by the California Air Resources Board and partners to offer of information to Californians looking to reduce their climate impact.

The CoolCalifornia Small Business Award program is administered by the California Air Resources Board. The 2009 award winners were recognized at a ceremony on December 2 in Sacramento with Mary Nichols, chair of the Air Resources Board, and Betty Jo Toccoli, president of the California Small Business Association, making the presentations.

The award certificate said in part, "Your efforts to reduce greenhouse gas emissions were deemed exceptionally commendable and can serve as a model for other small businesses."

This was the second environmental award for Hesperian Cleaners. The company received the Susanne Wilson Award for Pollution Prevention/Resource Conservation from the non-profit group ACTERRA in 2008.