Bay Area Green Cleaners form user group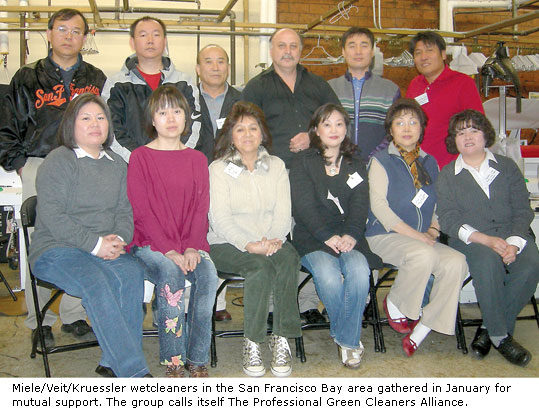 In the San Francisco Bay area, the number of dedicated wetcleaners is increasing.

Recently, Sung Han Lee organized a meeting for various Miele/Veit/Kruessler users at Hesperian Cleaners in San Lorenzo, CA.

When Lee first converted to a wetcleaning system back in March of 2007, he realized the only other Miele user in the area was Sergio Rios of Bob's Cleaners, in Richmond, CA.

Nowadays, there are nine Miele users (seven of whom attended the meeting) located in the vicinity that reaches as far south as Sunnyvale, which is in the heart of Silicon Valley, to as far north as Sacramento and up to the coast to Mill Valley.

One thing that bonded the Miele wetcleaners together, aside from geography, was that all of them had their systems installed by Hans Kim of Bogo International, Inc.

Ultimately, Mr. Lee and the others also felt an urge to form a fellowship in order to exchange information, compare wetcleaning processes and results, and educate themselves in order to excel with a higher quality finished product.

The seven Miele users at the group were able to communicate easily as they all used the same Miele machine and were all trained by the same person, Mrs. Sung Park. Thus, they were able to get right to the core issues faced by all.

One such common issue was problem garments and solutions. Despite all being trained by the same person, many of the cleaners had developed and modified unique processes to get better results, adapting to their particular environment and their customer's distinct tastes.

For example, one cleaner had customers who preferred their Tommy Bahama silk shirts to be softer while other customers opted for more body. The issue was solved by simply adjusting the amount of softener used at the end of the cycle.

The group plans to form into an official user group at its next meeting in March. In addition to taking on the name, The Professional Green Cleaners Alliance, the group also plans on electing officers at that time.

Future meetings will consist of discussions, seminars, workshops, new products and marketing.

The group also plans to link each other on their own web sites so that consumers will be able to locate the wetcleaner that is closest in their area.

For more information, contact Mr. Lee at (510) 414-3216.